Are you wondering by seeing the title of the article which I have chosen . Is there any way that "How to Get candidates resume for free" (without sourcing)?
Yes ,there are a few ways that we can get candidates resumes for free without taking much effort, which we are going to discuss in this article.
Everyone of us likes the things which comes for free of cost or for making our work done without doing much work. I am of the same kind but there is a self- satisfaction when we succeed after doing something useful rather than getting free of cost.
Every day is a challenge for a recruiter with lots of things to learn while earning through Incentives , so in order to get such incentives ,Firstly recruiter should try to submit resumes for the given requirement.

Below are the 4 ways: How to get candidates resumes for free.
#1 How to Get Candidates Resumes For Free – Through Mass Emailing
There are many others where we get resumes for free but Mass emailing is one of the kind.
In order to do the mass mailing we need to have a list of targeted email list to share our requirement ,this email list is called a Vendor list where it consists a list of email of sales recruiters.
So , let's dive in and see how to build the email list and what are the tools needed to build the email list.
How to build great vendor list?
Vendor list is nothing more than the list of emails of sales recruiters. Vendor list is mostly used for C2C business which usually every one of us will save these emails in the form Excel sheets as the technology has been changing so lets try Google Docs to save our data.
Tip#1 : By Writing a post on LinkedIn saying that you are looking for Vendors to support your daily requirements.
I hope every recruiter out there, will have an account in LinkedIn because this is for LinkedIn users . LinkedIn is the professional networking platform where there is a high scope of building a valuable human network system
Just having an account in LinkedIn is nowhere case , you need to be active in building network /Participating and joining the groups within your preferred domain this will help you a lot in your professional growth.
Coming to our main theme i.e building a great vendor list , as you build a network of sales recruiters then you can able to get their details by using the below two generic scripts.
#1 Generic script on how to post on LinkedIn that you are looking for Vendors
Hello Sales Recruiters, I am looking to expand my Third-party vendors list for my daily corp to corp requirements from our direct clients. Please drop your email id below in comment box to be added in my distribution list. Thanks !!
#2 Generic script on how to post on LinkedIn that you are looking for Vendors
Hello Bench Sales Recruiters, I am looking for the vendors / Bench Sales recruiters who can serve on my direct client C2C requirements on daily basis. Please comment your email id so that i can add you in my distribution list….. let's start working together
Tip#3 : Create a Google form to collect the vendor emails
Google forms are the best resource to collect information by creating Quiz , Polls, Opinions etc.., for free .
Here is the sample Google form to collect vendor list
How to create a Google form
Visit :https://docs.google.com/forms
(If you haven't logged in with your gmail , just login with your gmail Credentials.)
Tip#3 Find emails in your Outlook inbox
On a daily basis every recruiter will receive around 30-40 emails per day on an average , out of those emails most of them are from vendors , who are sharing their hot list ,collect these emails and save it in a excel sheet or in a google doc.
Ways to Email to Vendors list
After collecting all the emails there is no use that , if you doesn't send email to those email list . So here are the few ways to send an email to your Vendor list.
Outlook: As this the most common tool that every recruiter will use on daily basis to send emails which is connected with the professional email addresses which is provided by the company ,
This is the best way to send emails to the consultants and to the sales recruiters but there is clause here , if the recruiter send multiple emails via outlook at a time , outlook might not respond and your email address will be blocked for a certain period.
Mailchimp: Mailchimp is the free email marketing tool , to send multiple emails at a time by creating campaigns with customized email templates.
Here is the step-by-step tutorial how to configure an use mail chimp.
#2 How to Get Candidates Resumes for Free – Through Job posting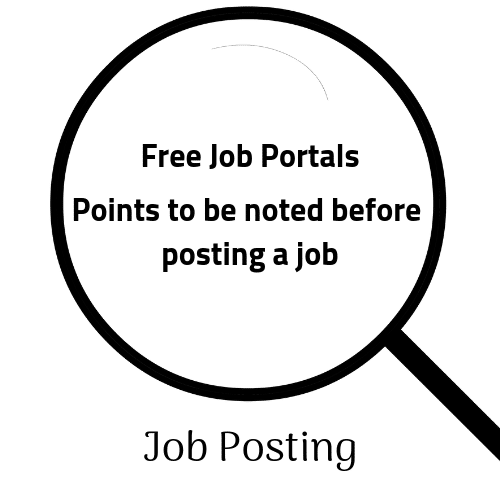 Job Posting is the best way to get resumes for free which are more qualified rather than which recruiters get from vendors,As there are many free and paid job sites where every recruiter can post their requirement .
Why some job portals offers free services?
As per the owners/CEO of these free job sites they make revenue out of ads which are displaying on their portals and selling their premium products like Resume Makers etc..,
Job Portals are the main resource for job seekers to apply for their dream job.
JobSpider is a free job portals which have extensive resume database , Used to post jobs and resumes for free of cost ,Job Spider has a feature of posting multiple jobs at a time and the jobs which are posted on Job spider are google friendly which appears on google search when a candidate is looking for a job.
Jobvertise.com
JobVerstise is a simple and user friendly free job portal to post the job with largest database of resume .Samuel A Roseman is the CEO of this free job site,
Learn4Good
Learn4Good is a free job portal with 25 million visitors per annum ,basically this is not only a free job portal but also it provides free TOEFL preparation and Career guidance for Students who are willing to do the higher studies in US.
PostJobFree.com
As the name indicates that recruiters can post their job for free and this website will distribute all your job postings to all other popular sites . It has 1594928 jobs posted on their website.This has very simple process to post a job.




US.jobs
US jobs is more than a job portal it provides insights to the immigrants of US on how US job culture works, helps with info about where to live in US .
Bighotlist.com
Bighotlist is a cloud based portal mainly helps in C2C business by integrating both sales recruiters and recruiters. Post any number of jobs for free and can search for hotlist of employers.
C2Crequirements.com
C2Crequirements.com is the online portal where recruiters can post the job/ resumes for free which is strictly for C2C business .
As Every recruiter is aware of this Job board-Dice , Dice is the most commonly used job boards by recruiters out there in the market to source and post the jobs
Why Dice is more popular than other job boards?
Different parsing method
Clean and user friendly interface
Features like AI recruitment,broad search filters etc..,
Points to be noted before posting a job
Job postings should not be treated as job description.
Always use Generic Job Title while posting.
Always post a job on Monday morning.
#3 How to Get Candidates Resumes for Free – Through Referral Program
What is Referral Program?
Referral Program is nothing but collecting the information of job seekers from his/her friend or colleagues.
On the call:




First responsibility of a recruiter is to make calls to the prospective candidate , a few seconds before a recruiter closes the call with the candidate , recruiter can ask for a referral for one of the job that which client is looking for.
Generic script for asking Referrals
Do you have any of your friends /colleagues looking for a job change ? if yes please share me the details that would be highly appreciated
By creating a candidate free referral page online
As per the survey 70%of the population on the earth are mostly attracted to the web based content ,so this is the one of he way to get engage with the job seekers directly by creating an free page.
#4 How to Get Candidates Resumes for Free – Using Social Platforms





Everything is socialized in this modern world by inculcating the social networking in our day-to-day life which makes everyone's life much easier to live .
So as the social platforms has huge impact on every aspect of life , we the recruiters will start making this platform to make our recruiting done.
Most popular Social Networking sites
Below are the popular US IT Recruitment groups from Facebook and Linkedin,this is also one of the way to get candidates resumes for free.
Effective use of below mentioned groups will get some qualified resumes for free ( With out sourcing)
Facebook
https://www.facebook.com/groups/1738130739837456/
https://www.facebook.com/groups/itrecruiteruss/
https://www.facebook.com/groups/RecruitmentLeaders/
https://www.facebook.com/groups/152202881481974/
https://www.facebook.com/groups/1426785187535973/
https://www.facebook.com/groups/easystaffing/
https://www.facebook.com/groups/783046368408285/
LinkedIn
https://www.linkedin.com/groups/3779940/
https://www.linkedin.com/groups/4398249/
https://www.linkedin.com/groups/2245427/
https://www.linkedin.com/groups/2169570/
https://www.linkedin.com/groups/111452/
https://www.linkedin.com/groups/10314075/
https://www.linkedin.com/groups/8355076/
https://www.linkedin.com/groups/44194/
https://www.linkedin.com/groups/4977027/
Google Groups
https://groups.google.com/forum/#!forum/corptocorprequirements1
https://groups.google.com/d/forum/corpvendors
Conclusion:
The main toughest part in recruiting is sourcing , but the above mentioned ways might help some way in sourcing .Make use of all the mentioned way to get more resumes easier and faster , please comment below if there are any ways to get candidates resumes for free.
If this article is useful , please do SHARE IT
Keep Sharing , Keep learning, Keep loving
Happy Recruiting