Dice.com is the largest online job portal which is used to source the resumes and to post the jobs with around 2.4 million unique visitors each month. Dice.com is used to fulfill all kinds of jobs roles across different domains.
Dice has recently updated their portal with new interface and new features , which embedded AI in to their job portal to make sourcing easy for the recruiters.
Contents :
How to post a job in Dice.com ?
How to Manage jobs in Dice.com ?
What is Intelli search in Dice.com ?

This is the best and the smartest way to get resumes just by posting a job and just relax , your inbox will be pumped up with resumes without missing the quality which you are looking for.
So, why should dot we learn to post a job in dice, let's get started.
How to post a job in Dice.com ?
Step 1:
Login to your Dice account with the credentials which are  provided by your company  or if you have purchased one.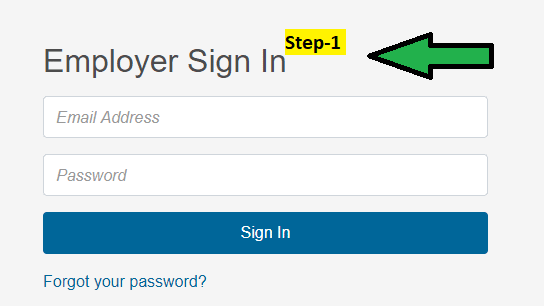 Step 2: 
Just click on Post jobs & Find Candidates tab on the top , select Post a New Job in the drop down which comes up.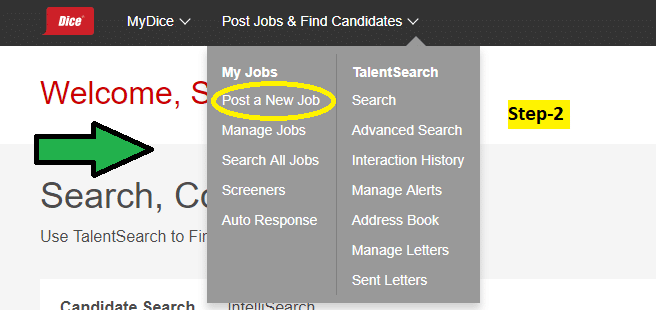 Step-3 : 
You will see a page with Title Post a Job, it consists of many sections to be filled to post a job successfully.
Pre-requisites to fill and complete the sections:
Job Title:  Job title is the only part of the job which is visible to the jobseekers to click on the job, so try to make job title more concise (Approx 20 characters to perform best) and specific to the job description
Example:
If the job title is software developer which is given by the client and job description describes it more in to DevOps and working with CI/CD tools, better to put the title as DevOps engineer, someone will get a question why not as software developer as that is provided by client itself, here software developer is the general term for developers so to be specific in choosing job title
Job Location
Give the job location which is provided to the client, try to go with zip code, as this will be more specific.
Job type and tax terms : Select the job type which is a contract or full time or contract to hire or direct hire or part-time  and select the type of tax term which you are going with your job i.e., W2, 1099, Corp-to-Corp
Pay and travel Requirements:
There are two subsections, i.e., Annual and Hourly
Give the pay ranges which depends on company margin policies, but be specific at these rate parts. Which helps the candidate and employer to decide up the opportunity or not. And select the travel requirements i.e., Remote or onsite or some travel required.
Job description:
A general job description consists of following parts :
1. Responsibilities
2. Skill set
3. Education qualifications
Measures to be taken while posting a job in Dice:
Never post a job description which with "US Citizens and Green cards Required" or that you are looking for US citizens / Green card holders for your job, i.e., Never post a job which discriminates on the basis of citizenship status or national origin
For more information, please see http://www.justice.gov/crt/about/osc/htm/best_practices.php.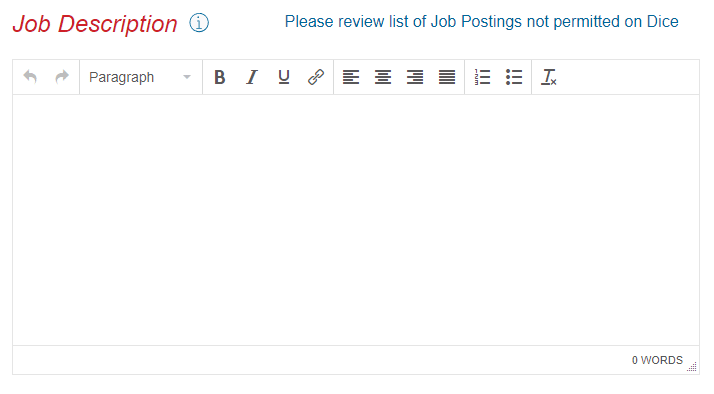 Skills:
Type in the skills which are required for your job
Example:
Hadoop, Big data, hive, Map reduce etc…,
Contact information:
This section is already filled, according to your company records. You can also uncheck if you don't want to see those contact details in the job posting.
Application Method:
There are two options here, one is to use dice plus email or use your own URL to submit the application
Preferred using dice plus email

Email Address to Receive Applications:
Give your official email address to receive the resumes directly to your inbox, and you also CC (Carbon Copy)  any email address to receive a copy of the email.
Screener questions: 
Which are optional, you can also use them to filter the candidates.
As you are done with all above things and filled completely at the bottom, you will find three buttons
1. Publish -which publishes your job post which you have created.
2. Save – which saves ll your settings or specifics on the job
3. Save & preview – Save your job post and preview your job post before you publish the job.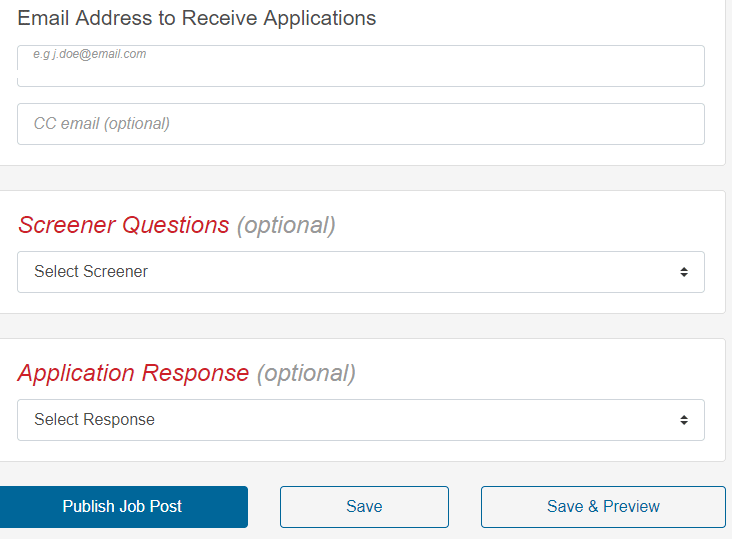 How to manage jobs in Dice.com ?
Click on Post Jobs & Find Candidates, then select Manage Jobs from below drop down box.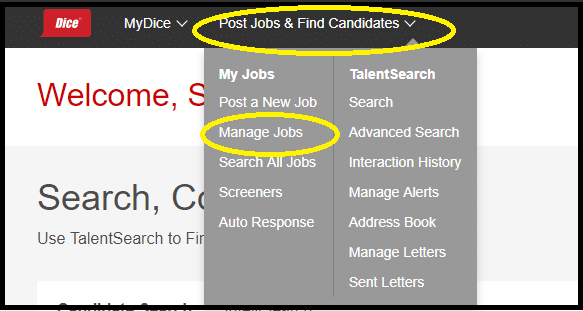 In the manage jobs page you will be seen all the jobs which are active , inactive and number of applications received for every job
How to activate the job in dice ?
Select the job and click on repost button which is on the left side of the page
How to deactivate the Job? 
Select the job and click on inactivate button
Can the job be edited in Dice ?
Yes, it can be edited even after publishing the job by clicking on edit button of a particular job.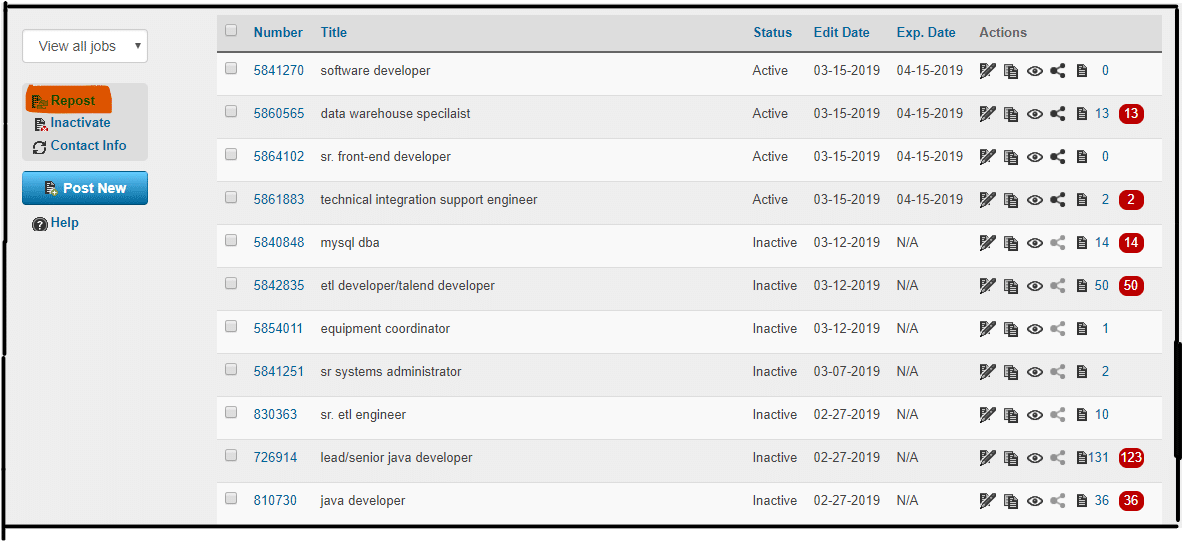 What is Intelli search in Dice.com ?
Intelli search which is a new feature introduced by dice by which recruiter can easily source resume without handling with search strings.
Just need to copy and paste the job description or resume or related content which you want resumes for and write your Job title and Location and click on Find Candidates, HOOOO !!!! Resumes with high quality will appear within the next few seconds.

Conclusion :
Dice is a very efficient and user-friendly job portal to source and post the jobs to get quality resumes.
Always use every option out there which is accessible to get high quality results.