Is the title of the blog looks exciting, wanted to know the hack?
Hello Everyone here comes with a brand new blog about LinkedIn which most of the recruiters use for sourcing candidates.
So, for everyone who has been waiting for something different from Linkedin other than content marketing and branding …….
Building network is the vital point to grow socially so here i bring you the little hack about LinkedIn.


" Message Anyone on LinkedIn without Premium "
Let's Look into the details how can we do it by a step -by step process with clear explanatory screenshots
Linkedin: As everyone knows that LinkedIn is a professional networking site where we can build our network, business by showcasing our skills to our community
LinkedIn Personal accounts are and will always remain free, including the ability to create and update a professional profile, to search one's network, and to contact other LinkedIn users through introductions.
LinkedIn has launched its Premium version in May 2003 which work easier to Recruiters and Researchers with powerful search tools and with In-mail feature
[quads id=1]
There are 3 connection types in Linkedin :
1st Connection : Who has accepted your request and can easily be reached with a message without using premium.
2nd connection : People who are connected to your 1st degree connections where you can not message them directly it requires Premium .
3 rd+ connection :
People who are connected to your 2nd degree connections where you can not message them directly it requires Premium .
To reach out to these 2nd and 3rd connections through the message without any use of Premium on LinkedIn
Lets Hack……………………..
Step-1: Go to the LinkedIn Profile to whom you want to Message
Note : (Not your 1st Degree Connections)
Step-2: Scroll down to the Interests section of the page
Click on the ANY group in which they have joined
Step-3: Click on REQUEST TO JOIN Button After few minutes you will get a confirmation that is added in the group
Step-4: Then Click on the Highlighted number (No of group members) in the image below then find the person whom you want to message
Step-4 : Now you can send message to anyone in the particular group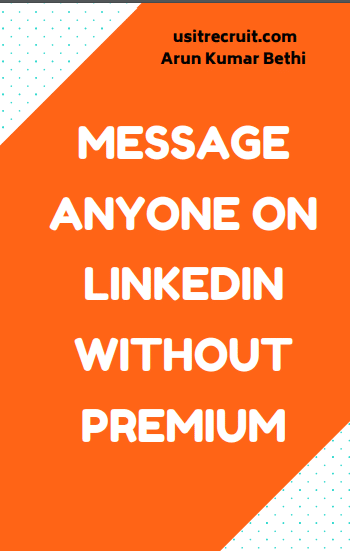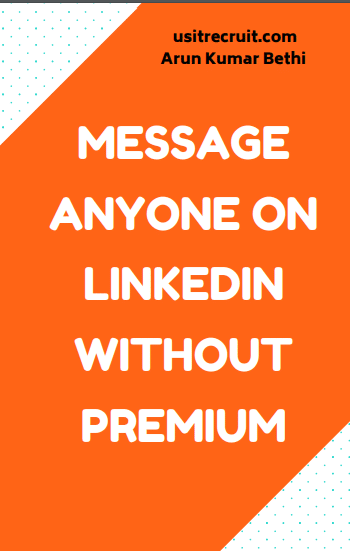 [su_button url="https://www.instamojo.com/usitrecruituniversity/message-anyone-on-linkedin-without-premium/" target="blank" style="flat" size="13″ radius="round"]Buy Now[/su_button]
Hope this article helps you
How to Message Anyone on LinkedIn without Premium
By using the Groups feature which is at the bottom of every Linkedin Page

By Joining the same group which the person you are searching , Usually groups give this flexibiity to message anyone who are in the same group without any restriction
Happy Recruiting !!