The vendors list is nothing but a list of Bench Recruiter/ Sales Recruiter emails that are stored/ saved in an excel sheet.
What is the use of having a Vendors list in Recruitment?
Building the vendor list is the key factor for every recruiter who works in Cop-to -Corp Business
As we have already discussed, the Vendors list is a list of Bench recruiter's emails.
In Corp – to -Corp business there will be two different companies work together to get their business done
One of them will have the requirement and others will have the resume by which they can exchange the business, By which a recruiter can do submission without much effort


Probably No, Because we have many sources to get these emails out in the market but the hardest part:
How to get all those emails to your sheet in one click ?
How to build a great vendors list?
Writing a post on LinkedIn saying that you are looking for Vendors to support your daily requirements.
#1 Generic script on how to post on LinkedIn that you are looking for Vendors
Hello Sales Recruiters, I am looking to expand my Third-party vendor's list for my daily corp to corp requirements from our direct clients. Please drop your email id below in the comment box to be added to my distribution list. Thanks !!
#2 Generic script on how to post on LinkedIn that you are looking for Vendors
Hello Bench Sales Recruiters, I am looking for the vendors / Bench Sales recruiters who can serve on my direct client C2C requirements on a daily basis. Please comment your email ID so that I can add you in my distribution list….. Let's start working together.
Here is the clear description on 4 Ways-How To Get Candidates Resumes For Free
Get 500+ Emails to your vendors list in 1 minute | Best tool to build Vendor list
Presenting you the great Chrome extension to get 500+ emails to your vendor list in 1 minute.
Here is the process to build the vendor list using LinkedIn through this fantastic tool.
Here is the Link to download this tool
Download this tool from the above link which looks as below
Step 1:
Click on the Add to Chrome Button as shown below
Step 2:
As soon as you hit on Add to Chrome Button then, there will be a pop up as shown below then click on Add Extension
Step 3:
You will see the small email icon at the top of the chrome browser.
How to get an updated vendors list in seconds
Step 4 :
Open LinkedIn ( login with your account ), this is feed page you see whenever you log in


Step 5:
If you want to get vendor list then "Vendors list" ( without quotes) then Content from the LinkedIn Menu bar

Step 6:
Try to find the below kind of post in LinkedIn then click on Email Extractor which is at the top of the browser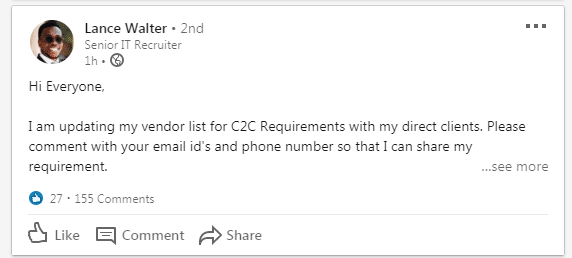 Step 7:
Click on Comments section then scroll down as long you done with one post, Repeat this with the same kind of posts and extract all the email addresses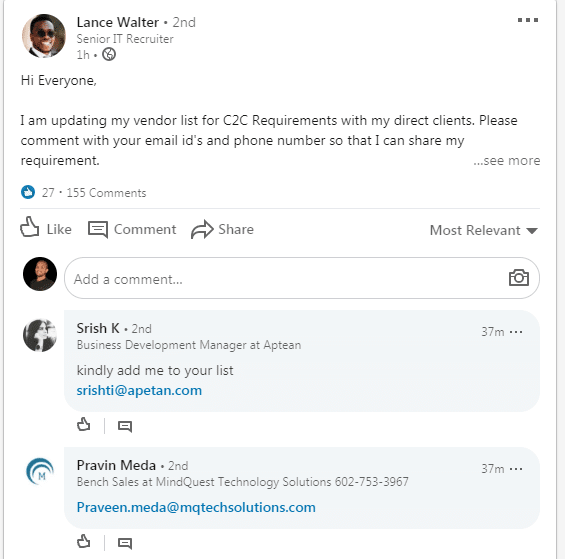 When you are done with scrolling follow the step 8
Step 8:
When you are done with fetching all the emails
Click on CSV as shown below to download your email list in an Excel sheet
Click on TXT to download the list in a document
Click on COPY to copy all the emails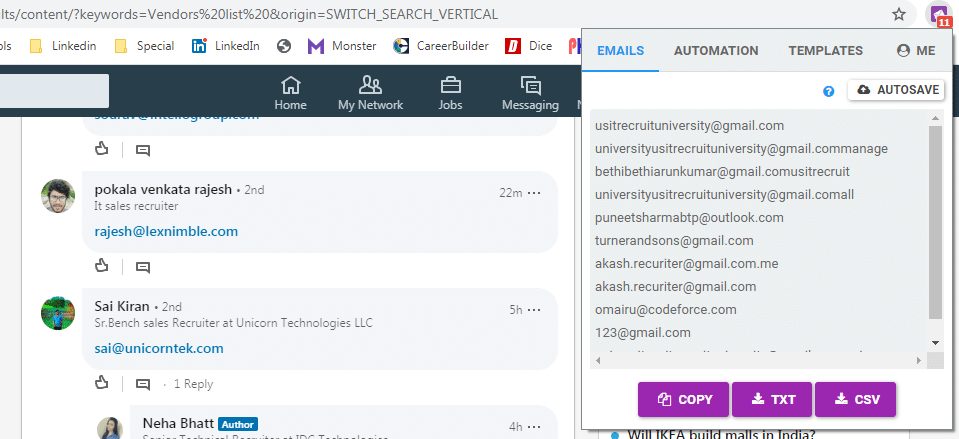 As promised you can get the updated vendors list within 1 minute
Still, if you are facing problems with this article or to get your vendors list please let me know in the comment section
Happy Recruiting, Happy Creating Vendor list